A good paper job, apart from the fact that it should be done correctly, is also impacted by the processing techniques applied to it afterwards, meaning that due consideration must be given to several other factors to guarantee a stellar outcome. If creative papers made of virgin fibre need this degree of "pampering" because the material is "alive" and reacts to the external factors with which it come into contact (light, humidity, temperature…), then this delicate approach is even more indispensable in recycled papers that originate from previous processes and are not of the same purity. We shall now recap on the main techniques that can be applied to this substrate and the aspects that need to be taken into account in the post-consumer waste version.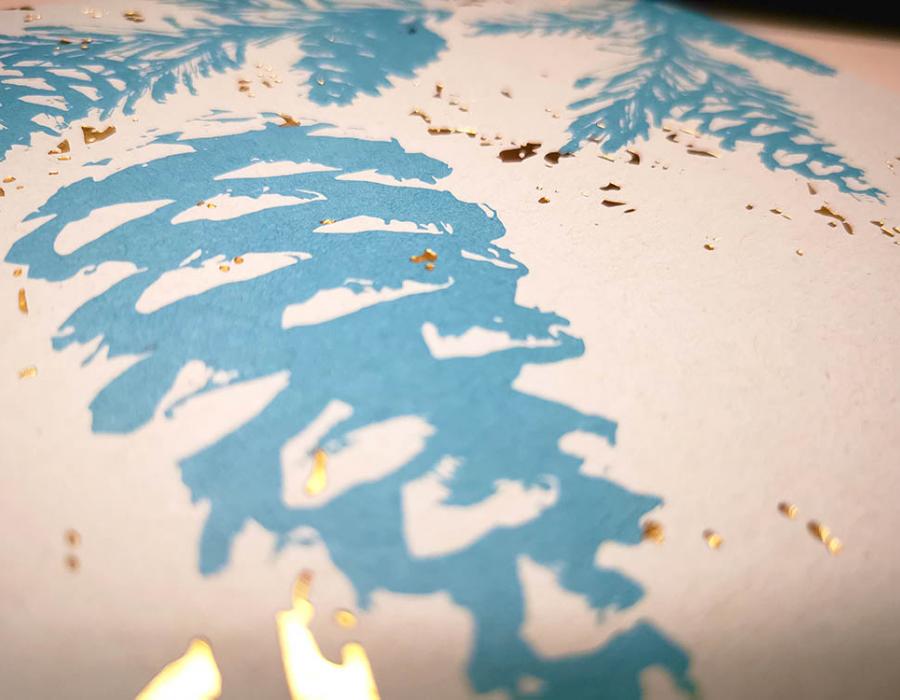 PRINTING
While printing would appear to be the least difficult technique involved in processing paper, since we are accustomed to using printers in our trade, in graphic design other aspects must be taken into account to guarantee a professional finish. We know that it can be  digital, with liquid ink (HP Indigo) or dry toner, and highly recommended for short print-runs; or offset with conventional, fast-oxidising or UV inks, particularly profitable for longer print-runs. However, what do we need to take into account when using recycled creative paper? 
To begin with, ink will behave differently on virgin or recycled fibres. The reprocessing of these cellulose fibres make it a more porous material on account of hornification, which results in a sponging effect. Although absorption actually helps drying, this process occurs so quickly that what actually happens is that the surface is repainted and consequently, if it is not processed properly, the outcome could be below par.  
Moreover, not everything is complicated in the use of this material and there are other aspects that are also conducive to good printing. Although we have already said that paper is alive and that it reacts to environmental factors, the recycling process leads paper to "become tired" and "move less". This means that it gains in dimensional stability, and since the fibre is more refined it may present greater opacity than new paper.  
In order to guarantee the greatest possible quality in offset printing, the experts in this technique, such as Otzarreta Think and Make help us, the manufacturers, to tell our clients how to obtain the best possible finish. Therefore, what do they recommend to avoid the sponging effect?  
There are different options for dealing with this, hence printing on recycled paper can undoubtedly yield the same results as any new material, while also fostering sustainability. The best solution is to use starch-based medium-grain anti-set-off powders. This substance will allow us to prevent this repainting, and is used particularly to print on coated or smooth paper.  
A second option, if even greater drying is needed, is to use a cobalt-based drying agent. According to the Otzarreta professionals, this will help us to dry the ink from the inside out, and it therefore enhances the process that occurs through natural oxidation. However, if after taking these steps we continue to encounter problems, drying inks can be used and even combined with some of the aforementioned products.  
STAMPING
This technique, which we saw in how to apply on virgin-fibre paper, is a method that allows a film to be heat-transferred onto a paper through the contact of two plates (one containing the etching to be stamped and the other one supporting it). When performed properly, it produces very attractive visual results, although we need to be very familiar with the material to be stamped in order to "experiment" with the variables that come into play. 
The key factor is to choose the right foil on both virgin and recycled paper, since in this case there are virtually no differences between them. Consideration must be given to the material's characteristics (grammage, embossing, colour, surface coatings…) in order to work with the best option for them from among the existing offer in graphic-quality and binding films.  
As a rule, in the case of mass-pigmented paper (recycled or not), when graphic-quality foil is used we recommend an initial white stamping and a second one in the colour to be obtained in the final print. We thus ensure that the hue of the substrate does not affect that of the foil applied on top of it.  
Another factor to be taken into account is the make-ready, which must be soft for higher-grammage recycled papers, involving a longer application time and pressure to guarantee proper transfer. On the other hand, in finer thicknesses there would be no problem with a hard make-ready.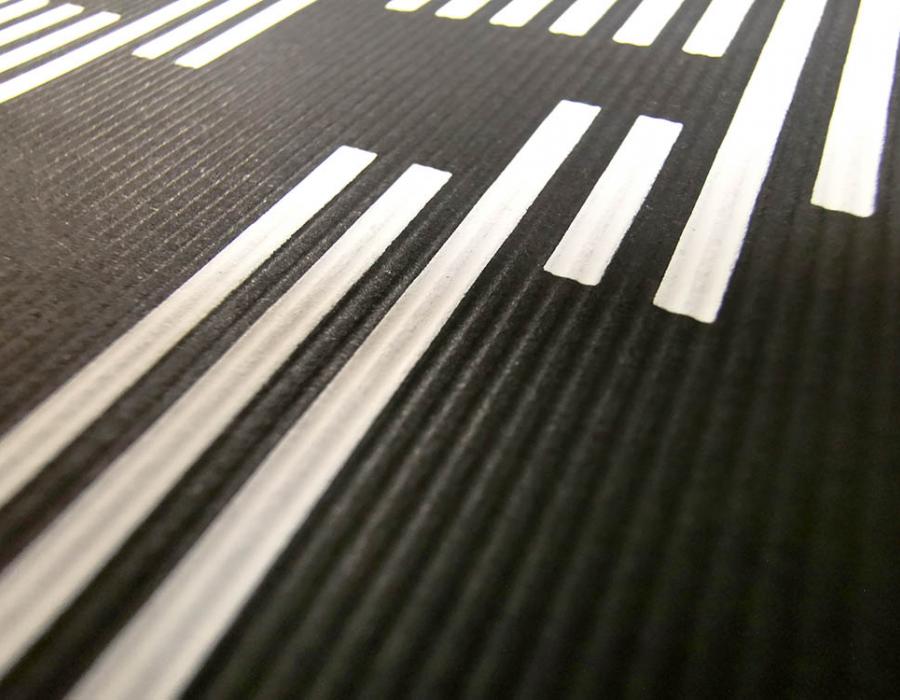 SCREEN-PRINTING
The final technique to be addressed when working with recycled papers is screen-printing. As we saw in the  post on this process, it consists of transferring an ink to any material by means of a screen that contains the drawing to be obtained. A squeegee is slid over this platform so that the ink is spread out over the hollows without any pressure being applied and the surplus ink is removed so that only the areas of the final design are painted.  
In this case, recycled papers are more difficult to screen-print with UV mask drying than virgin-fibre materials, in view of their porosity. Over-liquid-coatings for this type of substrate are absorbed by the fibres when applied, meaning that the final result does not produce an even brightness. This is why denser coatings that remain more easily on the surface need to be used, thus delivering optimal uniformity and brightness. 
In turn, neither should the inks be too dense, so that when embossed papers are used they will reach the recesses of the material and not just remain on the ridges. Therefore, the proper balance in density and the possibility of a second run to guarantee a brighter result will be essential to executing perfect jobs with recycled paper.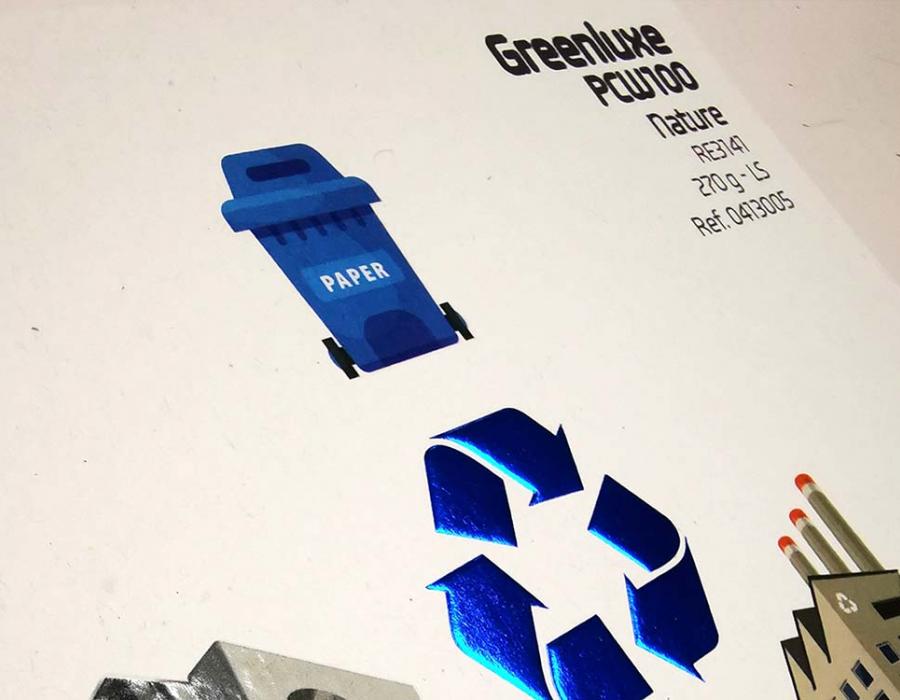 UV Reserve Well Performed